Why t-shirt tacks?
You might have a lot of old t-shirts laying around. You might want a creative challenge. You might be interested in sustainability and want to repurpose something you already own rather than buying new. All these reasons are great reasons to give one of my favourite pastimes a try. Ladies and gentlemen (are you out there?) I give you: a list of 60 t-shirt hacks ideas.
What is t-shirt a t-shirt hack or a t-shirt reconstruction?
T-shirt reconstruction or t-shirt hacking defines a way to alter or hack a basic t-shirt that completely transforms it into a new garment, sometimes an altered top, other times a cap, a skirt, a dress, and even a handbag. The various techniques used to hack a t-shirt are cutting and slashing, sewing, painting, embroidery, braiding, and the list goes on and on. All you really need to start is a t-shirt, old or new, large or small.
Other items you might need are:
a sewing machine (optional) – I have a Necchi Sewing Machine
an overlocker (optional)- I use the Brother 3034D Thread Serger. I've had this for a few years and I am very happy with it!
thread and scissors
T-shirts are usually made of jersey fabric, which had the great advantage that it doesn't easily fray, so if you make a cut, like, let's say you turn a t-shirt into a sleeveless tank top, you could hem your seams or leave them as they are, and nothing will happen. Depending on how much you alter your t-shirt, it may change its shape after washing and drying, but there are ways in which you can prevent that from happening, and we are going to talk all about it in this post.
Before the t-shirt hacks: a little bit of t-shirt history
T-shirts. We all have one. What am I saying, we all have at least a dozen. Printed with crazy messages, in both bold and neutral colours, we have t-shirts for the gym, t-shirts for work, t-shirts for gardening, t-shirts for dinner parties… there are very few things that one can't do wearing a t-shirt.
Yet t-shirts weren't always this well-seen.
In the late 19th century, the first to adopt the cotton undergarment were miners. Soon after it became popular among workers in various industries: it was easy to make, inexpensive, fast to clean and easy to fit. The great break-through moment of the t-shirt came with Marlon Brando and A Streetcar Named Desire.
Today they're crazy popular because they're so basic, so cheap, so… wait for it, easy to cut, chop, hack, customize and turn into completely new garments.
They're so many ways in which one can repurpose a t-shirt, from simple crops to adding paint and major t-shirt surgery projects. Let's start with some of the easiest t-shirt hacks you can try:
Basic t-shirt hacks
Crop a basic t-shirt leaving the bottom hem raw, cut out the sleeves and make your armhole a bit larger than usual and get a bad-ass t-shirt like this one pictured on A Beautiful Mess.
Turn a large t-shirt into a beautiful racerback tank top, perfect for a workout like this one from carbon38.  I especially love the grey piece of fabric on this one, it's just perfect.
If you have a t-shirt that's a bit too tight, you could try what Lucia Flores from A Bohemian Dream did here with this shirt: Her t-shirt hack: cut across the back up to the neckline, then either leave it as it is or add lace.
Another genius idea from the same designer is this t-shirt with button-up sleeves attached to it. If you also love the neckline, you could cut off your original t-shirt neckline and create a new keyhole one and either add lace on top or embroider your own design. This top is available on Etsy.
Create a super sexy crop top from a white tank top like this one Geneva from A Pair and a Spare did. You basically cut the back of your tank top, then cut the front piece in two, from your waist down, then wrap the sides and tie in the back. You can read the much better explained and beautifully photographed tutorial on her blog.
10 inspiring short videos to help you hack a t-shirt quickly:
What I really love about Karina Milanesi, aka Dicadaka is how quickly she explains things I've read about on other blogs, like cutting and braiding, but also her funky creativity. Here are some of her t-shirt hacks ideas:
In this Instragram video she shows how to create an intricate back braiding on a black t-shirt: just fold your t-shirt in two, cut along the back line to create the braids, then braid away and secure with thread or a few extra knots.
In this second video Karina only shashes the top part of a t-shirt, from the shoulder seam, close to the upper bust line, then accessorises with studs.
A very short and very effective crop sweatshirt tutorial: fist Karina created her Mickey Mouse shape out of three circles, then she paints with a sponge across the border of her template. She cuts the neckline and bottom line of the sweatshirt to give it a relaxed, slouchy look. I would use some strop fray on the edges, just so they don't curl back in the wash, but some might like that look as well!
I love how simple and effective this t-shirt transformation is: with just a few smartly placed, iron-on tiny pineapples and a tshirt in a drapey fabric she made this awesome new top. I would sew the pineapples by hand, just to make sure they will resist to any adventures they might participate in, but that's just me.
Another quick project for transforming a t-shirt is creating a pattern by painting on tiny stencils, like these white anchors Karina painted on her red t-shirt.
I really like these t-shirt braiding techniques because they change a garment completely. If you have a tshirt that fits you a centimenter too close, by slashing and braiding you can win back that extra width and enjoy your new, unconventional t-shirt.
I like this t-shirt hack because it starts a bit like shibori, but created a very similar effect in just a few seconds. Depending on the spray paint you use, you migh get a print that never washes from your t-shirt. You shouldn't put more on than just a very very light coat of paint, otherwise the t-shirt will look crunchy and feel uncomfortable.
Another stamping project, this time with a potato stamp. I always think potato stamps makes messy stamps, but looking at her final result, I would have never guessed those cool arrows were made with a potato!
I've seen this t-shirt hack idea on Pinterest before, but it's great to see how quickly a new tshirt dress is ready by just cutting those triangles from the sides and passing the bottom part of the t-shirt through the opening, twice.
Last but not least, I love how intentional the hand sewing looks on this colourful pocket. I am not a huge fan of frayed ends, but this looks really cool.
7 fun and easy t-shirt hacks projects to try this weekend
Let's talk about t-shirt hacks and up-cycling garments. If you are currently on a garment and possession detox (like a no buy or low buy), you should know that there are a million things you could do with a thing before throwing it away. Trust me I'm an expert in re-re-re-re-cycling.  And even when I don't want to think about it, I find other talented makers who do amazing things with old things. In the list below there are seven examples from amazing Etsy sellers who turn plain old t-shirts into some great new pieces.
 A delicate repurposed doily t-shirt
If you're lucky to have an old crocheted doily around the house, you can jump right into making this beautiful t-shirt hack (don't worry about yellow crochet, just wash it with a bit of lemon and let it sun dry, Martha Stewart says), if not you could try to crochet your own. Or you could just buy it from katrinshine on Etsy.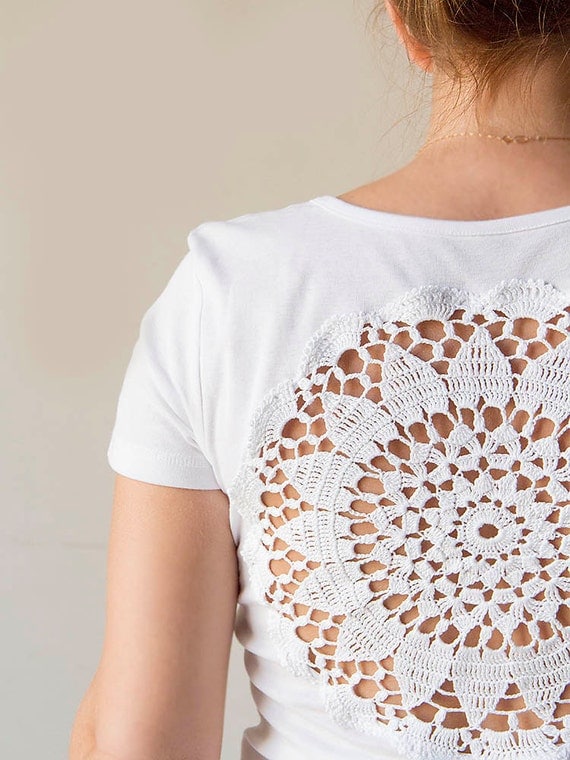 Two t-shirts hacked into a skirt
A larger t-shirt (or two smaller ones) can easily turn into a comfy lounge skirt. I really like how the maker kept the original design of the t-shirt, but you could tie-die or dip die or bleach or paint… decorate and alter your t-shirt fabric anyway you want. Original image from Ohzie on Etsy.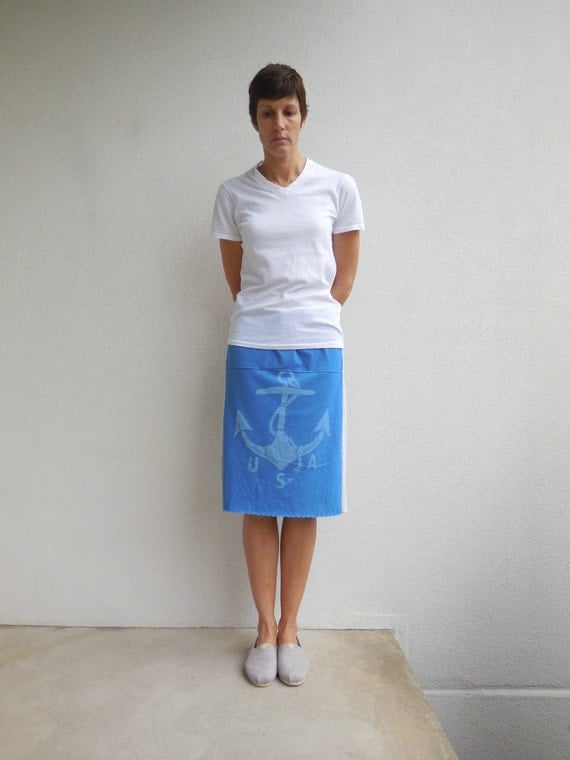 A tennis skirt 
This is another skirt idea, shorter and a bit fuller but made in a very similar way: a thicker waistband sewn onto a tube of fabric. Perfect for a friendly game of tennis! Idea and image from ThreadsbyEmily on Etsy.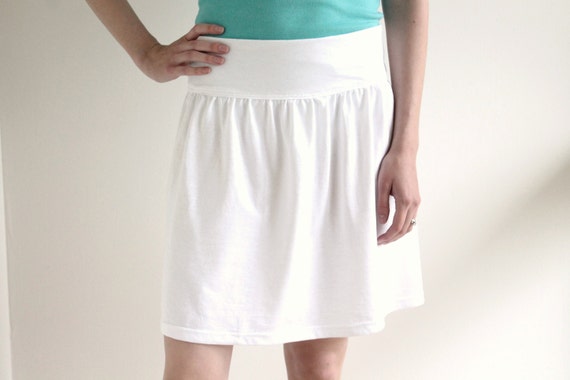 Yoga gloves
Is your t-shirt too small to turn into another garment for yourself? What about a smaller accessory, such as panties or gloves? How fun are these finger-less yoga gloves? Original image by ComfyChick on Etsy. This might just be one of my favorite t-shirt hacks in this post.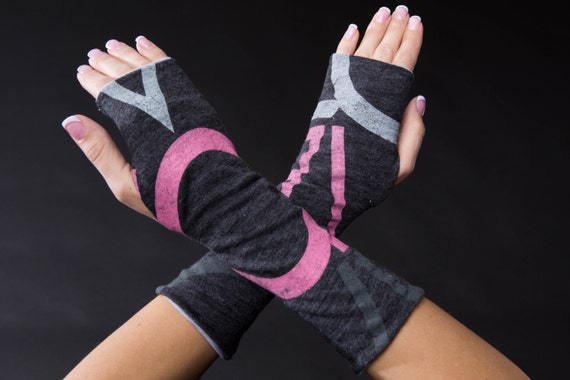 Mixed media tank top
This top from theELEPHANTpink is really great. There´s sharpie tribal drawings, glue paint, embroidery, really, really nice.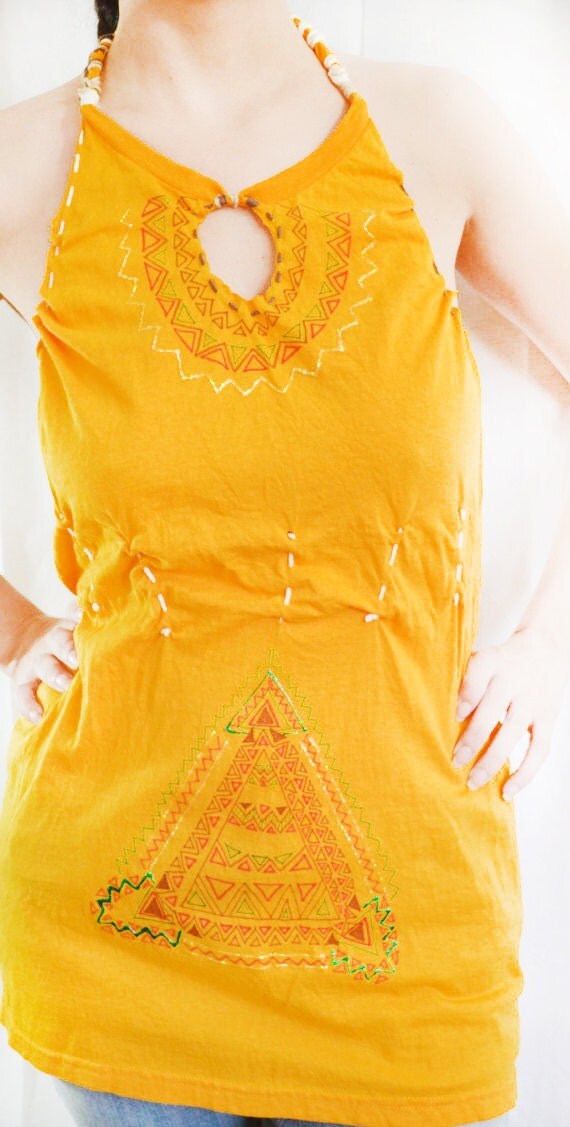 A crazy t-shirt collage
I love this idea from Cathrineann on Etsy. It´s perfect for that new t-shirt you only wore once and put spaghetti sauce on. Just cut the bottom part and use a mix of fabric to recreate the lower half of your t-shirt.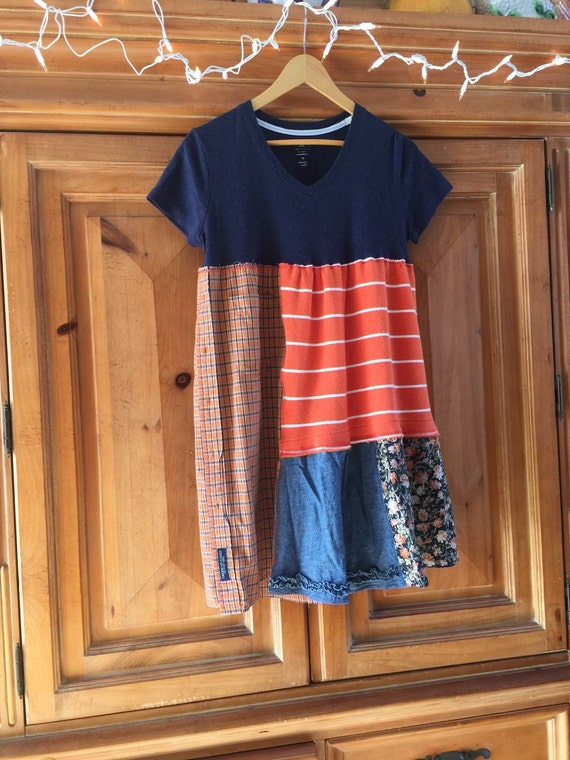 Green, reusable cleaning rags
Okay, maybe this is the last resort when it comes to recycling t-shirts but I'd rather use one of these t-shirt rags 20 times than a paper tissue every time. Idea and photo from aRecurringDream.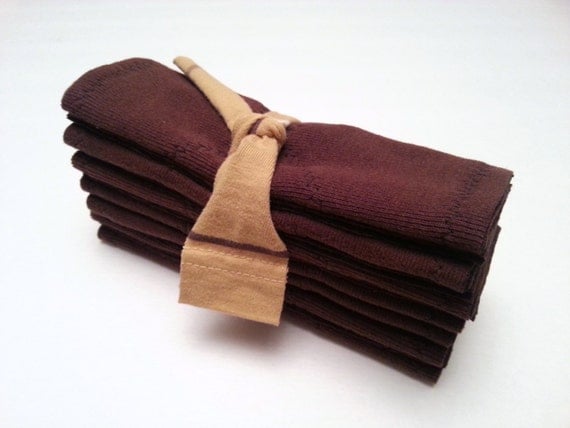 5 t-shirt hacks ideas from Asos
You can make a cute t-shirt like this one by drawing with a black sharpie on a white tshirt. Before drawing, put a piece of cardboard between the layers of your t-shirt so the ink doesn't bleed to the back side of your top. If you want to crop it, just cut off the bottom part and hem.

This is the perfect project for that piece of iron-on transfer paper you've been hoarding. Take a photo of your pet, or a cute cat like this one  or even these two and your new piece of art is only a little Photoshop and pressing away. Here's the original t-shirt if you love this as it is.
What I really like about this crochet yoke t-shirt is that the original neckband has been kept in place. This is easier to do if you also keep the back of the yoke for support. If you're not great at crochet you could sew on some cotton lace (or repurpose a doily).
This back wrap t-shirt is easy to make if you start with a really large t-shirt, or you could use two t-shirts, if you don't have enough fabric. If you're using a really large t-shirt, unseam the back and redraft the front side, then cut the back piece into two triangles.
Another fun idea to reconstruct a plain white t-shirt is to add a string of pom poms to the bottom hem. Who knew this would look so cute. Image from Asos.
11 more cute t-shirt hacks ideas
Turn it into a crop top
While not the easiest refashion in the world, you could make this crop top from a black t-shirt. First cut the sleeves off and the full back piece. For the front piece, make a crop just under your rib cage. Cut the back piece into strips of fabric and sew them back to your front piece.
Fake lace DIY t-shirt hack
I really like this idea from Pink Ice: making a series of highly detailed, geometrical cuts to the back of a t-shirt, with the end result of a lace-like t-shirt back. If you're going to spend hours to do this with a pair of small, sharpened scissors, I would invest in a bit of no-fray and smudging it along the edges of your design. Jersey doesn't dray, but this will give your design a bit of stability and a longer life if you machine-wash it.
Triangle cut out t-shirt hacks
This t-shirt surgery by We Are Hairy People is as beautiful as it is simple. This proves you don't have to labor for hours to hack a t-shirt. A few well-placed snips and a sharpie and you're ready to go out the door.
Angel wings t-shirt refashion
Here's a similar stencil-like t-shirt hack, this time with cut-out angel wings. This seems like a simple to do project and there's a full tutorial on how to make it over at Cut Out And Keep.
T-shirt hacks for larger t-shirts
Katy's t-shirt refashion is so quick to make and clever I feel inspired to leave this blog post-half-written and go make one myself. Hmm, maybe I'll just do that after I finish this. Ok, focus! 🙂 Katy went out and bought a very large t-shirt – her t-shirt has a floral print and some beads added – you could also paint your t-shirt or sew your own beads on it, if you want – and then she cinched it with an elastic. The full tutorial on her blog, Sweet Verbena.
Tie the knot t-shirt
Sarah from Our Life is Beautiful says it took her ten minutes to do this t-shirt hack. She cut out the neckband, then created a long, oblique slash, going from the left side of the neckline to the armpit. Then she knotted the remaining ends and sewed it in place. Pretty awesome, isn't it? Check out the full tutorial here.
Turn a plain t-shirt into a cute top, with lace
I might have a soft spot for all grey t-shirts DIY, but I just had to show you this easy t-shirt hack from Michele Leng: she takes a plain t-shirt, cuts of the sleeves and adds a cute lace collar. Follow the link above for the step by step tutorial.
T-shirt to Grocery Bag
This one is one of those t-shirt hacks that I can't see going through too many washes, but if you have a t-shirt you are thinking of throwing away, give it a longer life by turning it into a grocery bag. Cut off the sleeves, stitch closed the bottom hem and make a lot of small cuts into it for both handles and the net-like design. Idea and tutorial from Delia Creates.
Funky flip-flops from an old t-shirt
This is another one of those t-shirt hacks I just want to jump and start making. Have an old t-shirt you no longer wear? Braid it and use it to make a pair of lovely to look at flip-flops. Full tutorial from Make it and Love it.
A ruffled cardigan made from a t-shirt hack
Do you have a long sleeve t-shirt you're not wearing anymore? Turn it into a cardigan by slashing open the front piece of your tee and adding ruffles to the sides. You can add buttons or completely skip them. Idea and tutorial from Favecrafts.
A cute t-shirt with tiny ruffles
If the ruffles are very tiny like the ones in this project, I think I could live with them:
10 ways to refashion a t-shirt with braids
The braided neckline tee
This is seriously clever how Kira figured out how to turn a plain tee into a super cute braided neckline tee. It looks quite difficult to make, but Kira has a step by step tutorial on her blog: Her New Leaf.
The supersize braid t-shirt hack
Veva from My White Idea takes the concept of the crown braid and applies it to a t-shirt. The end result is an amazing, eye-catching new top. Read her full tutorial on her blog.
  An off the shoulder top Make an off the shoulder top from an extra-large t-shirt: cut off the top arc of the sleeves and the neckline to create the off the shoulder shape, then fold back on the inside of the t-shirt and sew a 2-3 cm wide hem. Thread elastic through to keep your top on your shoulders. If you want to make your sleeves look more bell-shaped, cut off thin triangles from the underarm seam area.
A t-shirt rug
While this is not exactly braiding – I made this with oversize plastic crochet – a rug is something you could make by repurposing all those t-shirts you don't wear anymore, and even scraps from other t-shirt hacks. I've also seen this kind of rag rug made by braiding the jersey strips in three, then sewing the braids together. Here's my nice and cozy rug I made for my studio (which reminds me I have to post some photos).
The super-shredded t-shirt
There is some crazy shredding going on here, but I guess one could try it at least once in their lifetime and see what happens. This t-shirt can be purchased from Etsy or you could try to DIY.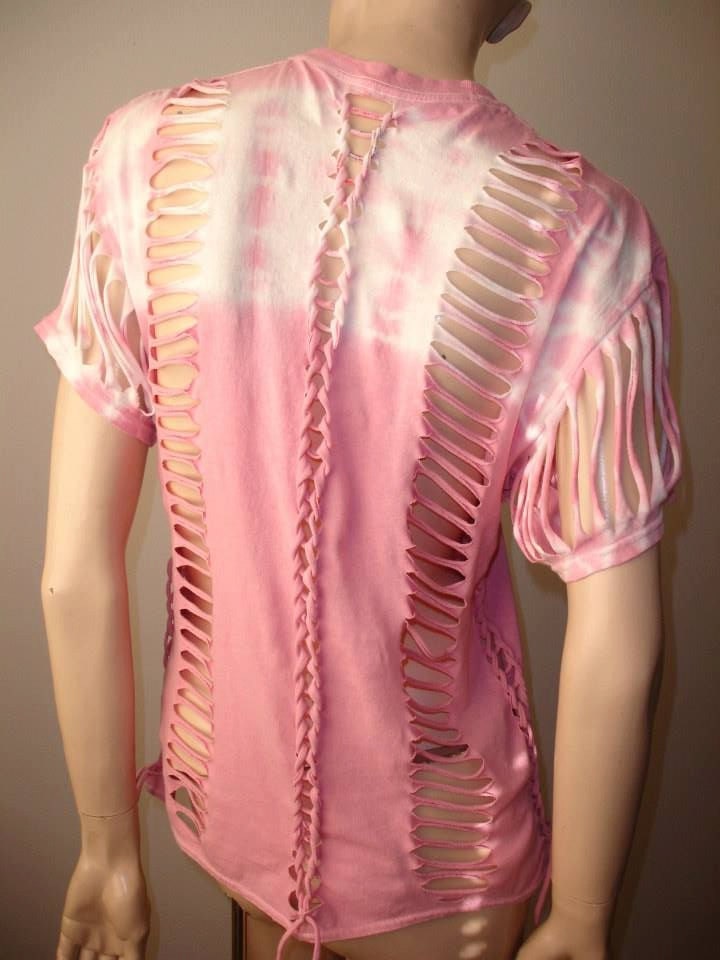 The triangle slash and braid t-shirt
And another slash and braid, yet a tiny bit less dramatic t-shirt hack from Craftster, one of my favorite places in the whole wide web. Follow the link for the instructions.
A new braided headband, from an old t-shirt (now that's a t-shirt hack)
Here's a really beautiful t-shirt hack from the talented Alisa Burke. She uses plastic headbands as a base, then covers them in fabric and then glues on a braid. The result is super pretty. Here's the full tutorial.
A soft braided headband for working out
If you really like the idea of recycling an old t-shirt into a fun accessory you will actually use, here's a second headband tutorial: this time Catherine from the awesome healthy lifestyle blog Rabbit Food for my Bunny Teeth cuts the lower part of a t-shirt and makes a braid of 5 strands. Clever. Follow the link I just added
Braided t-shirt bracelets
If you like the braided headband DIY, you will love these braided bracelets made from an old t-shirt. What's really clever about them is that they have magnets glued on the ends of the bracelets! Get the full how to on Henry Happened.
A weaved in neckline
Okay, so this is not really a braiding hack, but I love how clever this weave in is. I love how Sophie used a high-contrast neon on the light grey t-shirt. If you'd like to try making this, read the tutorial over at Sophie's blog, The Forge.
Make a fabric bowl out of an old t-shirt
Lisa Tilse from The Red Thread Blog is one of those makers who always inspire me to experiment more and make more. She has a full tutorial on how you could use t-shirt scraps to make beautiful fabric bowls like the ones you see below.
Bonus tip: If you need a daily dose of DIY inspiration, follow Lisa on Instagram.
10 over the top t-shirt hacks
Small Neckline Faux Ruffle Tee
Even though it looks like this t-shirt is adorned with ruffles, it's actually made out of jersey circles sewn together on the neckline. Super nice! Tutorial from Sarahndipities.
The color block t-shirt
This looks a bit more complicated but it isn't at all. You only need two or three t-shirts to mix and hack and a sewing machine (or a needle and a bit of patience). I love how this old t-shirt project turned out. Extra points because she's on her way to becoming a pattern designer.
The Contrasting Sleeves Tee
And check out this one: sleeves in two colors and a contrasting neck binding: lovely. From Pinterest.
And if we're still colour blocking, what about making a dress? Love how this one turned out.
The Little Black Dress T-shirt
Turn a simple black xxl shirt into a cute LBD – just adorn the sleeves with a striped knit. You can read the tutorial at the LulaLouise blog.
<!–-nextpage–->
The floral panel t-shirt
Kerry has a very cool idea: turn two t-shirts into a new one. I think an easier way to do this is to cut out the front panel of a t-shirt and switch fabrics so you end up with two new t-shirts instead of one.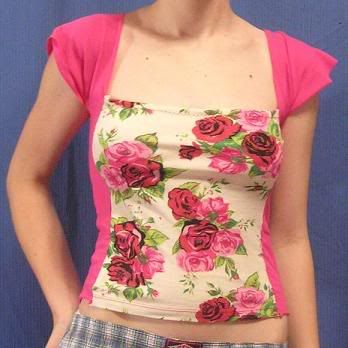 Pussy-bow T-shirt
Use a long sleeve t-shirt or an extra large one to make the bow for this one. I think you could also do this in a contrasting fabric. Follow the tutorial on I Candy Handmade.
Textured Tshirt
Very similar to the idea above, this textured t-shirt surprises with its man shirt inspired front pleats. The messier they are, the better. Make sure you start with a t-shirt 2 or 3 sizes larger than the one you wear for this t-shirt. T-shirt hack idea by Supernaturale.
The Neck Tie T-shirt
To make this t-shirt you will need a necktie. Just sew it onto the cleavage, starting from the middle of the cleavage and working your way up to the other side, pleating the necktie as you go. Ad a pin and you're done. T-shirt hack tutorial from McKell's Closet.
The Contrasting Pocket T-shirt
Want to turn a simple white t-shirt into an eye catching top? Sew on a small pocket in a contrasting fabric. If you're really bold, try a piece of leather, floral prints or even draw the pocket on with sharpie pens. Image from Pinterest.
Vintage Hankies Peter Pan Collar Tank Top
I love Suzannah's idea of using vintage handkerchiefs to make petter pan collars for her basic tank tops. They look so sweet! Full tutorial on her blog, Adventures in Dress Making.
Play with iron-on transfer paper I really like this t-shirt hack idea, because you just need a printer and iron-on paper. You could print all your favourite food and make yourself a lucky t-shirt 🙂
Are you interested in similar posts about t-shirt reconstruction, t-shirt hacks, t-shirt refashion?
You might also like the following posts:
Can this post be improved? How? Let me know so we can create better inspiring, sewing-related content for everyone.
Author's note: This post was originally posted in April 2014. It was updated for freshness, accuracy, and comprehensiveness.